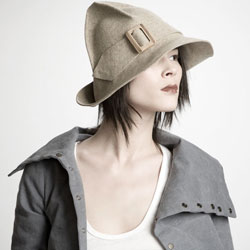 Vancouver, Canada based German Hat
designer Claudia Schultz, is our
newest client.
Claudia is the owner of mooncruise*
a shop/ gallery that features an array
of truly unique products and fashions
from both local and international
artists and designers.
The store items include handbags,
furniture, home wares fashion
accessories and her unique hats.
Mooncruise* promises a one of a kind
shopping experience.
If you're ever in the area,
we urge you to pay a visit
235 Cambie Street
Vancouver, BC, V6B 1E5
Canada

Claudia's inspiration comes from the
European 1920s/1930s cloche/cap,
which she's transformed, into a
modern fashionista style. She creates
wearable, functional hats for every
day use, with minimal accessories.
Her hats stand out through the shape
and color, or color combinations,
simple lines and geometric shapes,
understated and modern.

The hat prices range from $98 to $198
Look out for Claudia's hats in fashion
magazines, this fall/spring.
To see the range of hats, please visit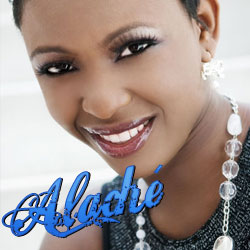 We are excited to Introduce you to our new client. Alaché
She is a Florida based singer-songwriter, an Inspirational Nigeria artist who falls under the Inspirational/Christian genre of music. Her New Album Until Now will be in stores nationwide by February 2009.
Her edgy, upbeat and engaging tempo makes her stand out as a truly inspirational artist. Alaché was born to an Air Force General and a Fashion Designer mother. She has lived in Africa, Europe and North America.
Her versatile and well grounded upbringing adds an extra edge to her music style.
Alaché is a fresh artist who comes at a time when music lovers need that engaging inspiration. Her songs cover issues from insecurities to joyful emotions with the single track Higher. Listen to some of her tracks
For more on Alaché visit www.alacheonline.com